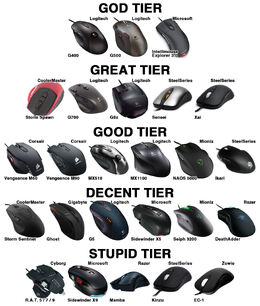 The mouse along with a keyboard and monitor is one of the most used parts of a computer. As such it is importand to get a quality mouse that supports the hand (and wrist) well. Some mice are prone to breaking or being overpriced. Many mice have more features than just clicking which some power users may appreciate. Some mice are more suited to gaming than others.

Ad blocker interference detected!
Wikia is a free-to-use site that makes money from advertising. We have a modified experience for viewers using ad blockers

Wikia is not accessible if you've made further modifications. Remove the custom ad blocker rule(s) and the page will load as expected.